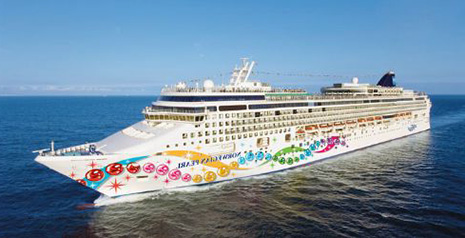 Ideas for posts come to me at odd times, so what I do is keep a running list of ideas for when I am in the mood or  I have thought about it enough to write something. Well, recently I have had ideas, but they are all related to things that have happened recently, which are kind of negative and I want to write something positive this week. I am really tired of all the negativity and need to look at some of the brighter things in life, especially right now.
So to get away from the negative vacuum, I want to really distance myself from the now situation. There is good among all the bad right now, but I just need to go to a different place – a more positive place that is far from here. So, I want to move to the days of our free cruises (well, kind of free). This comes to mind because many of my friends are on one of these cruises in Hawaii right now, and it was a very happy time for me.

About seven years ago, my wife earned what we call a free cruise. The cruise was a reward for obtaining a certain level of business success as an independent consultant for a stamping and scrapbooking company she works with. This was to be the first of five roughly annual cruises (some were 18 months apart). I was so excited about the first cruise. This was our first free cruise over a four an a half year period. We had previously been on a cruise and loved it, so my expectations were high for a great vacation – sun, beautiful beaches, snorkeling, wonderful food, entertainment, and lots of relaxation. Well, we had all of this and even more than we could have expected.
First of all, I say free cruises, but we still had to pay taxes, tips, and excursion costs. So, not free, but an incredible deal. The first cruise was to the Western Caribbean, the next was to the Eastern Caribbean, them the Mexican Riviera, then Alaska, and finally the Mediterranean.  All trips were amazing, but the destinations are just half the story. it was incredible to get to see the world, but it was equally incredible to build some wonderful relationships. In fact, half the fun of these cruises comes from the ports and half from the social interactions. Oh, hold it. I left out a key point. My wife was not the only one that earned these free cruises. Generally, anywhere from 50 to 100 people earned these cruises and they each get to bring one person, so no matter where you go on the cruise ship, you see someone you know. To some, this might seem far from fun to feel like you need to socialize and be friendly, but I really loved it.
I loved the opportunity to get to know people, hang out with them, have dinner together, and go on excursions, and all of this in an environment of no phones or other distractions. You could really get to know people in a way so different than in everyday life – a way that really accelerated the ability to become close. As I read what I am writing here, I can tell that I am not doing this justice, but just understand that the socializing was fun, really fun. Maybe a big part of this was that I felt popular and liked. Most in our group knew my name and seemed to enjoy my company. Each night of the cruise, I would analyze what happened and think about each conversation I had engaged in. I would review names and stories. Sometimes I would even write down notes. When the cruise was over, I was weeks in readjusting and being willing to accept my regular life back. I could hardly wait for the next year. And in my preparations for the following year, I would review the list of cruise winners and try to remember what people looked like and their names – obsessive but awesome. I would even review pictures to see if I could name them.
I was always jealous of my wife, because she would go to meetings and conventions and see and interact with these people multiple times a year. I would just get my once a year shot. Things got better for me in this area around the time of the last cruise because FaceBook came along, and now I could interact with these friends between cruises too. OK, does it sound like I am living life vicariously through my wife's friends? Well, it sounds that way to me too, but I am not. These were and are truly my friends too.
Well, it has been about three years since the last cruise. My wife has had other important priorities, like family, in her life that have limited her ability to work her business as she use to. It is sad that we no longer get to cruise with friends, but I know she has chosen the right emphasis. I really miss the whole atmosphere of these cruises and I miss spending an intensive week with wonderful friends. However, there is a time and season for everything and that season has come and gone. I am so grateful we had that special time and will never forget it or my special friends. And a huge shout out to all of my cruising friends that are on Maui right now!